Providing well-tuned fertilizer application systems for growers
SureFire is a unique business, combining  technology with classic American know-how to provide innovative agricultural products throughout the United States and Canada. They specialize in providing onboard liquid application solutions for a range of farm equipment, from row crop planters, and small grain seeders to specialized potato planning. SureFire Ag's goal is to make integrating their fertilizer systems simple and easy with the technology the grower already has in the cab. They custom-fit products to operate efficiently with different equipment, implements, interface capabilities and requirements, as well as the type of fertilizer or chemical the grower will be using. SureFire works with end-users to specify exactly what kind of system will meet their needs.

Tower Pump
The Tower Pump System is ideal for in-furrow starter or any low-volume application requiring 4-5 GPM or less, depending on specific application.  The pump(s), pump control module, flow meter, and strainer are mounted to the Tower frame simplifying installation on your implement.   Two models are offered – the standard Tower 110, or the Tower 200 which comes preconfigured for agitation. The system uses 1 or 2, 12-volt electric diaphragm pumps depending on the maximum required flow.  The pumps are designed for rugged agricultural applications. The pump control module speeds and slows the pump to achieve the desired application rate (GPA).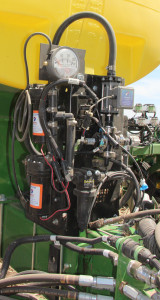 Pumpright Pump
PumpRight pumps are ideal for liquid application requiring flow rates up to 55 GPM.  The PumpRight pumps are excellent for liquid nitrogen application on planters, strip-till machines, and side-dress applicators.  They provide the highest degree of reliability, rapid rate response, and require minimal maintenance.  PumpRight pumps are available in four sizes to meet your application needs.   Pulse Width Modulated (PWM) Hydraulic Valve – The PWM "control valve" is a complete motor mounted assembly which minimizes external plumbing.  PWM solenoid valve regulates oil flow and turns off flow when commanded to by controller.  The valve is compatible with power beyond hydraulics with addition of load sense line to the tractor. Positive Displacement – One revolution of the pump shaft results in a specific volume of flow. Suction – PumpRight pumps develop suction and thus are self-priming.  There are no seals to ruin and it is impossible for the system to develop an air lock.  Implement mounted pumps will easily pull liquid from tractor or trailer mounted tanks. Easy Installation – PumpRight pumps are designed for easy installation and setup.  The complete pump, with direct-couple hydraulic motor, hydraulic flow control, and flow meter are affixed to the mounting bracket at the factory.  The provided mounting bracket easily attaches to tubes from 4" to 8" wide.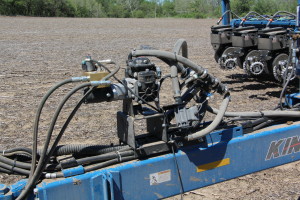 Odyssey™ Pump
The Odyssey Roller Pump is specially designed to handle the toughest agricultural chemicals and fumigants.  The pump comes standard with Teflon® rollers and Teflon® coated seals.  Other features include the new SilverCast™body, 416 stainless steel shaft, and sealed factory-lubricated ball bearings.  The Odyssey pump has been used successfully for both Vapam® and Telone® application.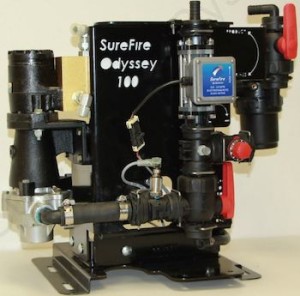 SureFire EMag™ Flowmeter
All models of SureFire pumps are paired with an electromagnetic flowmeter.  Extreme accuracy and fewer problems make these meters an integral component of a SureFire System.  Unlike a traditional turbine-type meter, the electromagnetic flowmeter has no moving parts to wear or jam.  Once the meter has been calibrated, it will be accurate for any other conductive liquid, without the need for recalibration. The EMag is a very high resolution meter, resulting in extreme accuracy, especially at low flow rates (less than 2 GPM).  Most traditional turbine-type meters produce 75-200 pulses/gallon. The Ion Flow Meter produces 11,000-22,000 pulses/gallon, depending on meter size and capacity.