With Sunco, efficiency is increased, input costs are lower, and the goal of increased profitability is achieved!
Sunco has been designing and manufacturing products for agriculture since 1980. The ownership and management of Sunco all have backgrounds in agriculture, resulting in a special focus for the company: To design and manufacture unique, dependable, problem solving products.
Fertilizer Loss & Inaccurate Placement
Sunco's Nutri Mate 3 incorporates over 30 years of experience in planter row unit mounted fertilizer openers. The original Nutri Mate, designed in the early 80's as a "V" opener with two 13 1/2″ blades, solved the problem of fertilizer loss in light soils and inaccurate fertilizer placement experienced with bar mounted openers. The introductions of the Nutri Mate II in 1995 using a 13 1/2″ notched and 12″ smooth disc, making the combination of a single disc and a "V" opener, and the Nutri Mate 3 in 2010 incorporated several original and unique features. This refined the original design to be used in all types of farming practices including conventional, minimum-till, strip-till, and no-till. The benefits of using Nutri Mate are better fertilizer utilization, more crop uniformity, higher yields, and more profits.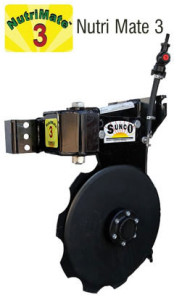 Plugging
Sunco solved the problem of plugging experienced with spiked wheels introducing the Sunco Saber Tooth Trash Discs. This product incorporated 3 unique features, disc concavity, sweptback tooth design, and disc separation to keep them from competing for trash. The Sunco Trash Discs don't plug in today's tough, heavy trash.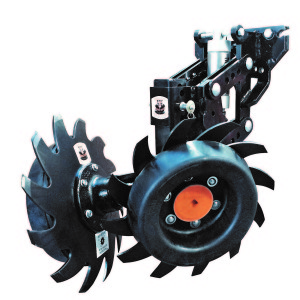 Cultivator Blight & Crop Damage
The Acura Trak Guidance System featuring implement guidance built in a tractor 3-point hitch was developed in 1987. Acura Trak implement guidance solved problems associated with cultivator blight and crop damage due to the inaccuracy of the implement. As a result 12, 16, and even 24 row cultivators could operate at the high speeds and cover considerable more acres without damaging plants. Today, producers are still using Acura Trak to keep 3-point implements accurate in planting, bedding, strip-till, and cultivating operations. With the advancement of GPS steering, Acura Trak can be used with John Deere, Trimble, and Auto Farm sub-inch GPS, keeping the implement perfectly on the GPS path determined by the tractor GPS signal. This new development with actual implement steering using Acura Trak results in implement accuracy without the need of feelers on the crop or in the ground.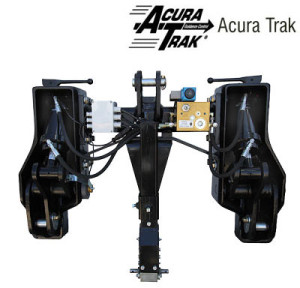 Implement Stability & Proper Trailing
Implement guidance wouldn't work if the implement moved and didn't trail properly. To solve this problem and make the implement stable and trail properly, the Sunco Stabilizer was designed and produced. It features unique coil spring down pressure and easy field adjustments with heavy duty construction to handle today's biggest equipment. To keep implements trailing properly behind tractors equipped with GPS steering, the Sunco Stabilizer is a must.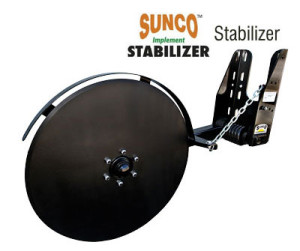 Water Run-Off, Erosion, & Pivot Trak Washing
The Sunco Prop (named because of its unique design) was developed in the early 1990's to stop water run-off, erosion, sprinkler run-off, and pivot trak washing. Machines on the market at that time punched holes or drug and dumped soil to form a dam between the rows. These were extremely rough to drive over, especially at harvest, causing damage to harvesting equipment. The Prop solved the problem. Designed as an individual row unit that could be attached to many implements. The prop reshapes the soil into dams and reservoirs that are 45° to the row. Then as harvesting equipment passes over, the tires never bounce over the dams or drop into the reservoirs. thus, erosion and water run-off are eliminated with a very smooth ride at harvest.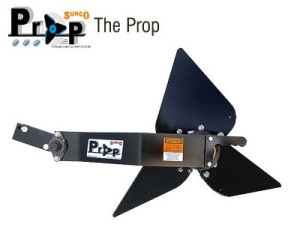 Sunco manufactures products that offer quality, durability, and dependability with unique designs that target and solve specific problems associated with today's modern farming practices. Using Sunco products on your farm allows you to enjoy the benefits of improved performance, productivity, and return on investment.