Five simple steps — One solid result.
These simple planter attachments make it possible for growers to plant into higher levels of residue. Millions of acres are now planted this way! Higher levels of mulch mean less erosion and more consistent and lower cost yields, all while the soil is rebuilding itself. Happy planting!
1. Row Cleaners
Clean and lightly till without furrowing out.
Properly designed row cleaners provide a desirable type of tillage. Cleaning the soil's surface layer makes it easier for the seed openers to make a well-defined "V" without furrowing out, or causing slabbing or fleaking. This is the key to preventing erosion! All Martin row cleaners have the following features
3/8″ thick, high-strength, right- and left-toothed wheels with diamond shaped points
Stationary triple-lip seals
Heavy-gauge oval dust caps
Double tapered bearings
Greaseable hubs
Rigid: Martin's more aggressive row cleaner style. Particularly useful when a furrow is needed to reach moisture. Available for all popular planters.
Floating: This style has the advantage of always moving residue and lightly tilling the seed zone and leaving no skips or furrowed out places. Fit most popular planters. May be used ahead of most no-till coulters or certain fertilizer openers.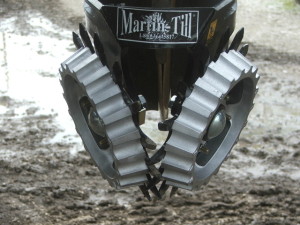 Check out all the row cleaners Martin has to offer here!

2. Fertilizer Opener
Place fertilizer in soil, not on trash or planter.
Martin's fertilizer opener mounts directly to the planting unit, so the fertilizer is always placed precisely the same distance from the seed, even when planting on the contour. The lateral spacing from the seed can be 1″, 2″, or 3″, and there are three vertical settings that allow fertilizer to be placed 3/4″ above, even with, or 3/4″ below seed depth. It consistently places the fertilizer in the ground without splattering it on the planter.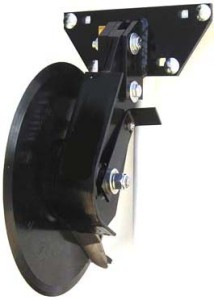 View Martin's available fertilizer openers here!

3. Reduced Inner Diameter Gauge Tires
Allow the seed disk to lift part of the sidewall and leave it less dense.
To reduce sidewall compaction to a minimum, JD style planters will need the gauge wheel tires changed to a reduced inner diameter style to allow the seed trench walls to lift slightly. This change allows you to return to the field a day or two sooner after each rain!

Click here to look at Martin's catalog.

4. Spading-Closing Wheels
Close without surface compaction.
Martin Spading-Closing wheels move soil toward the seed at planting depth, while lifting and fracturing the surface layer to achieve compaction-free closing of the seed trench in wet, hard, or sod conditions. With soil firmed around the seed from each side and the surface layer loosened, crops emerge sooner and planting can be done at the proper depth, even in wetter conditionswithout fear of crushed soil above the seed, preventing emergence.
Martin's spading-closing wheels wedge the soil toward the seed from either side at seeding depth by a pair of Martin Row Cleaner wheels. The ends of the teeth have full bevels cut on them, which are placed toward the row. The narrow edge enters the soil first, producing a wedging action. As the teeth on the wheels rotate up out of the soil, a slight lifting and crumbling occurs in the surface layer. The area on either side of the seed and immediately above it is not fractured, and because of the shape and spacing of the teeth on these wheels, wet soil does not bind to them.
Specific Advantages
Speeds up warming of the row area
Closing wheel arm pressure can be greatly reduced
Seed trench is closed in the most severe conditions
Seed depth does not have to be raised to insure emergence
Soil above the seed is loose and slightly mounded allowing quicker emergence in a compaction-free environment
Sidewall compaction is greatly reduced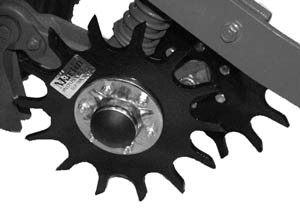 View their closing wheel options here.

5. Twisted Drag Chain
Level row and seal air pockets.
The twisted drag chain follows behind the Spading-Closing Wheels to further crumble and level the soil. This helps even out the rate of drying and insures the soil will not dry past seed depth. It's a low cost, low maintenance way to help increase uniform emergence in the drier parts of the field. It's a must when using the spading  closing wheels in minimum till.
DCK-01 Drag Chain Kit
Heavy square edge cross chain and brackets
Bolts to all MaxEmerge units
Fits Kinze and White units with bold-on wheels
Kinze units with roll pin attached closing wheels will need holes drilled for mounting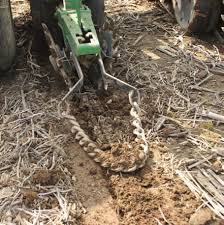 See the drag chain kit in action here!